OpenZeppelin
|
June 17, 2019
The Zeppelin community connects experts, beginners, and enthusiasts of smart contract and decentralized app development from all over the world. They come to our forum to help each other, get support, learn, and discuss security, design patterns, and best practices. The community is also home to the OpenZeppelin, ZeppelinOS, ZepKit, and Ethernaut open source projects.
Back in January, we announced the beta launch of our forum, and since then it has become the main discussion space for our community, replacing Slack. Five months in and we're really happy to announce that the forum is no longer in beta and that our community Slack channel is shutting down in seven days!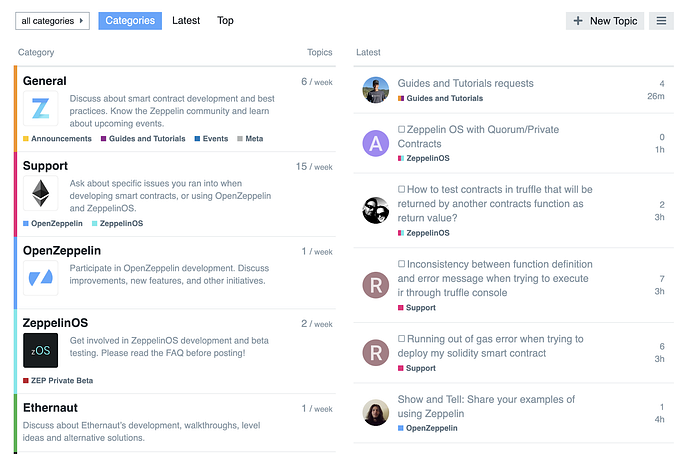 Get help
If you're running into an issue while developing smart contracts or decentralized applications, post it in the #support category along with all the necessary details to reproduce it, and someone in the community can help you troubleshoot it.
Learn
Go through the Guides and Tutorials category, and if you don't understand something, ask a question. If you like what you read, say thanks. And if any guide is missing, just request it 🙂
Small tip: you can gain experience really fast by helping people in the #support category.
Contribute
You can get involved with the development of our open source projects: the OpenZeppelin library of reusable smart contracts, the ZeppelinOS platform for upgrades and deployment, the ZepKit decentralized application development starter kit, or the Ethernaut security hacking game. The forum is the place to propose new features and ideas for these projects, so join the discussion!
Our community is made by developers, for developers. See you in the forum!
Special thanks to @bugduino, @abcoathup, @frederickalcantara, @RockmanR, @Skyge, @scammi, @pllearns, @ylv-io, @paulinablaszk, @jaureguino, @frangio, @nventuro, @Dennison, @itinance, @jcarpanelli, @ianbrtt, @tinchoabbate, @obernardovieira, @chris.whinfrey, @spalladino, and @IvanTheGreatDev for your assistance in making the community awesome.